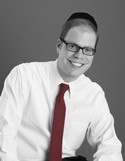 Yisroel Meir
Krohn
Yisroel Meir joined our firm as a Financial Advisor in 2011. Having earned a Masters degree from Beth Medrash Govoha of America, Yisroel Meir expanded his education to the fields of finance and insurance. He holds a Series Seven General Securities license as well as a Life and Health insurance license, and is a Registered Investment Advisor Representative.
Yisroel Meir guides investors through all phases of the investing process, from the initial consultation to tailoring a strategy specific to their individual risk tolerance, financial goals, and personal requirements.
After the closing bell, Yisroel Meir, an avid runner, often enjoys a four mile run, as well as spending time with his wife and four children.
Visit Yisroel Meir's Linked-In profile: http://www.linkedin.com/pub/yisroel-meir-krohn/43/683/a73
"Yisroel Meir understood my questions and concerns from my tax/accounting background and his answers were very well thought out, articulate and on point."                                                                  Meir Pick, Accountant and tax preparer                                                                                            Brooklyn, NY
"From our first conversation, Yisroel Meir has personified everything an adviser should be. Integrity, timeliness and excellence. He has been a pleasure to work with and I unequivocally recommend his services to anyone seeking financial advice."
B. Abraham
Lakewood N.J.